West Gate Studios is the first and largest private campus in Romania, inaugurated in 2009, that accommodates over 1800 students of different nationalities.
This campus is developed by Genesis Development as part of the Smart City concept that is defined by energy efficiency and improving the quality of communication within community. West Gate Studios consists of 925 studios and apartments completely furnished and equipped. The students have access to lecture halls, Art Café multifunctional space, sports fields, medical clinic, a modern library with an unique design in Romania, supermarket, laundry, pharmacy, 24 hours security services, parking lots and many other amenities.
In West Gate Campus, the well-rounded student community organizes plenty of events and activities: sport competitions, theme parties and workshops, so students rarely feel the need to leave campus to go out in town.
The tenants have easy access to public transportation Less than 5 minutes of walking distance there are Preciziei subway station and also bus, trolley bus and tramway stations.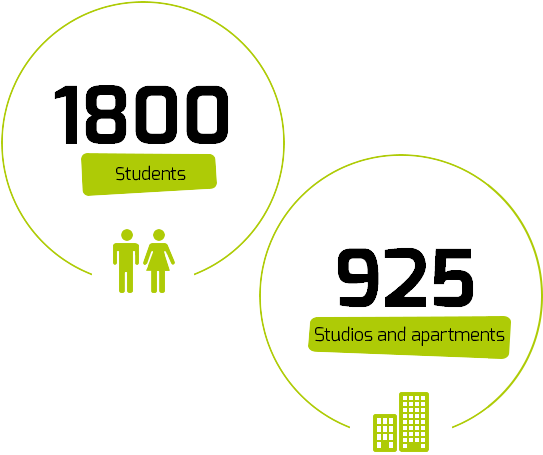 For me, West Gate Studios is home, meaning safety, comfort, modern amenities and entertainment. I especially appreciate all living conditions that are the same as those offered by any other well-known campus in the West. The rooms are exceptional, and the modern library and reading rooms helps us to prepare properly for college. For our spare time, we have access to a fitness club, sports courts, café and restaurants inside the campus. And along with my fellow Romanian and foreign colleagues, we always organize a lot of events so we rarely feel the need to leave the campus for the city. Here we have everything we wanted!
Ana Constantin
I chose to live in the West Gate Studios for a lot of reasons. First, the conditions offered. There is no another campus in Romania to provide students and young professionals so many amenities and leisure opportunities. Then, it was the location that also made the difference: the campus is close to my college, and close to many multinational companies in which I plan to find an internship or a job. I also admired the cohesive community of the residents, of which I wanted to be part since the first visit to campus. I am very proud that I am one of the residents of West Gate Studios!
Razvan Ion