West Gate Business District
West Gate Business District is the only heliport accessible business park in Bucharest and one of the largest business parks overall. The complex consists of five buildings with a gross leasable area of 75,000 square meters and offers, since 2007, integrated class A office spaces for local and international companies.
The project has been designed to be in harmony with its environment, with emphasis on green spaces, efficient and flexible areas.
Inside of West Gate Business District there are many amenities for tenants: restaurants, cafés, a multi-functional space fitness club, tennis court, bar, laundry, a medical clinic and a pharmacy.
West Gate Business District is located in the West of Bucharest and offers easy access to downtown, to highways and public transportation: bus, trolley bus and tramway. Less than 5 minutes of walking distance there is the Preciziei subway station.
Our Partners: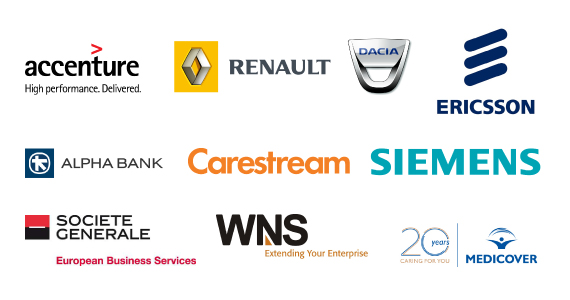 In June 2012, Société Générale took the decision to move its Bucharest share services center in West Gate Business District. The location offers easy access to the local transportation, high quality services and premises, being an excellent facility choice for a multinational business.
Dl. Maurice Caulliez, CEO
Société Générale European Business Services SA
In West Gate we have received the best quality and the best price to support our business activities in Romania. We have located our Headquarter here in 2008 and we are happy with the resources and logistics offered by the West Gate Business Park. The building H3 is fitted with many of our innovations and solutions so you can imagine that sometimes the work office seems a little bit like home.
Dl. Cristian Secosan, CEO
Siemens SRL
We have chosen to locate one of our four worldwide Global Operations Centers in West Gate Business District due to the excellent quality of the entire project, as well as the top – class facilities it includes.
Dl. Stephen Bury, Head of GSC Romania
ERICSSON TELECOMMUNICATIONS ROMANIA
Taking into account aspects like cost, quality of services and our employee's satisfaction we considered West Gate Business District as the right choice for our headquarters. We gladly recommend this high class and modern facility.
Dl. Stefan Ichim, Country Manager
Panasonic Marketing Europe GmbH – Bucharest Branch
An excellent location, major local transportation and ample parking offered, many of the ingredients for the basis of establishing our headquarters in Romania, in Westgate Business Parl. We have experienced excellent service with a fast and efficient response to our needs and requirements.
Dna. Gina Regea, Facilities & Services Lead
Accenture Romania
West Gate Business District is a unique integrated business park concept, a balanced environment between location, facilities and services, design from the beginning to address the more and more complex office needs on the Bucharest market of large multinational companies, especially companies that have concluded to set-up regional hubs in Romania.
Dl. Sergiu Oprescu, Executive President
Alpha Bank Romania
For more than four years now West Gate has been a stable and reliable partner in our plans of growth, providing quality services and support whenever needed. We thank West Gate for being part of our evolution since day one and we hope that our professional relationship will continue for years to come.
Dl. Akos Csernus, Senior Vice-President Operations Central & Eastern Europe
WNS Global Services (Romania) S.R.L
As the first tenant in West Gate Business District, we are pleasured to see the project develop and grow, with additional facilities being added on a regular basis and constant care for the tenant's needs.
Mr. Jérôme Olive, CEO
Renault-Dacia Group in Romania